Resurrection of a 1970's Les Paul Custom
"Somewhere in the 40 years since my Les Paul Custom was built, it died; somehow, you've brought it back to life. I don't know if it was the fret work, new bridge, new nut, neck work; maybe it was all of the above. But something worked a resurrection. I had hoped for better sustain, better trebles and enhanced playability. I got all of that but what I also got was far more dynamics, a part of playing that I'd largely forgot. I've been playing until my fingers hurt and then, sometimes, just looking how beautiful it now is. Many, many thanks for the miracles you worked. Colin"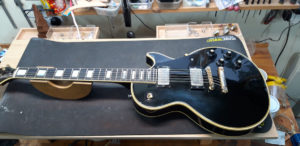 This Les Paul came into the workshop in a pretty tired state. When I plugged it into my amp it sounded like someone had just thrown several blankets over the amp. The guitar sound lifeless and lacked clarity or sustain. It also had a hairline crack at the point where the neck meets the headstock. A very typical crack line on a Les Paul.
So after some discussion with Colin, the owner of this guitar, it was agreed that I would do the following work.
Refret
The frets were very low and worn. So it was agreed that I would refret the guitar with 2.6mm by 1.2mm Evo Gold fretwire. The Evo Gold fretwire, as well as being a lot harder than nickel, worked well with the faded gold hardware. A refret done well, invariably breaths new life into a guitar. And that was certainly the case with this guitar.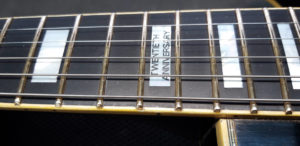 New bone nut
Because the new frets were somewhat taller than the old ones, a new bone nut was fitted.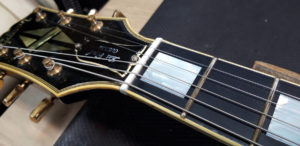 Replacement bridge
The original bridge had collapse somewhat. So instead of the saddles reflecting the original 12″ radius, the bridge profile was a lot flatter than this. This is quite a common problem on old Les Paul's. So a new ABM bridge was fitted. I'm sure the new bridge added to the sustain and clarity of this resurrected guitar.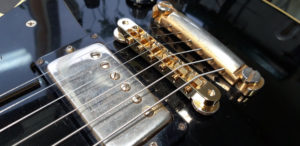 Potentiometers and wiring circuit
When I tested the pots I found that the volume pots were rated at 330K and the tone pots at 270K. This is a very strange choice of pots for this type of humbucker and accounts for the total lack of brightness when plugged into an amp. It is not typical of a 70's Les Paul and I can only assume that this is what was lying around the factory when the guitar was put together.
Anyway, the guitar was rewired using 500k pots and orange drop capacitors. What a change in the sound!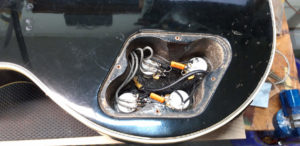 Neck crack
The neck crack happened many years ago and didn't seem to be getting any worse. But I wicked some water-thin CA glue into the crack and then clamped it shut. I then sprayed some black nitro lacquer over the crack line. It is worth pointing out that this Les Paul has the 70's neck volute. Some people argue that this type of Les Paul neck construction is less likely to break. I'm not convinced about this. At the time I was working on this guitar, I was also working on two other 70's Les Paul's, both with volutes and neck breaks.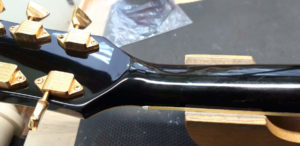 In conclusion
I really enjoy taking tired, old guitars and bringing them back to life. And this was certainly one of those jobs. It's worth reading again Colin's comments about his guitar, which give me much joy!
"Somewhere in the 40 years since my Les Paul Custom was built, it died; somehow, you've brought it back to life. I don't know if it was the fret work, new bridge, new nut, neck work; maybe it was all of the above. But something worked a resurrection. I had hoped for better sustain, better trebles and enhanced playability. I got all of that but what I also got was far more dynamics, a part of playing that I'd largely forgot. I've been playing until my fingers hurt and then, sometimes, just looking how beautiful it now is. Many, many thanks for the miracles you worked. Colin"