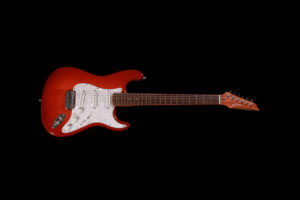 Over the years I have worked on many hundreds of Stratocasters. But I have never owned one. Back in 2017 I decided to put together my own Strat. I bought the body, the bridge, pickups and tuners, and then made my own neck. I sprayed the body but was not happy with how it turned out. So I put the body away and decided I would respray it at some later date. That 'later date' turned into many years!
This year (2022) I decided that I really needed to do something about this half completed guitar. After all, I had bought some expensive parts for it. It seemed a shame not to complete this project.
So I stripped and resprayed the guitar in this cherry burst colour. This time I was please with the look of the finish. I think the cherry burst works well with the tulipwood headstock facing.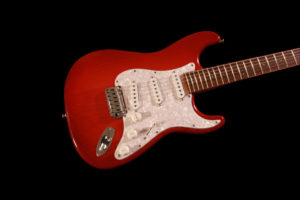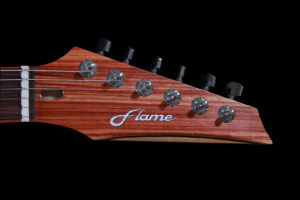 I have called this guitar the Flame Metisse. Metisse is the French word for something that has a mixed heritage. The body of this guitar is a standard Strat body, but the headstock has more of an Ibanez look about it. Hence the name.
The pickups are a set of Bare Knuckle Irish Tours, which are very much to my taste. I don't like overly bright Strat pickup and for me, these pickups give that right balance of a classic Strat sound but without being too 'spikey'.
I also fitted a Freeway switch to this guitar. This switch looks like a normal 5-way switch, but the lever can be moved across to give an addition 5 sounds. So you have the classic Strat 5 position sounds, but in addition you have the following sounds:
Neck & middle in series
Neck & bridge in parallel
Neck & bridge in series
All 3 pickups in parallel
Middle & bridge in series
10 switching positions may be way too much for many people, but it does give you a lot of options. And if it is too much, just use it in the normal Strat positions!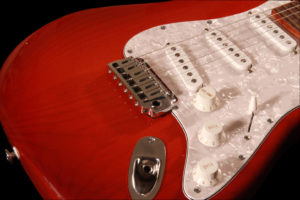 Here is the full specification for this guitar:
Body:
Alder body
Gloss finish (water based poly topcoat)
Neck:
Maple neck
Rocklite Sandari fretboard
Compound radius fretboard: 9.5-14″
Evo Gold fretwire
Tulipwood headstock facing
Tulipwood edge binding
Oil finish
Hardware:
Gotoh 510 tremolo system
Schaller tuners
2-way truss rod
Pickups & switching:
Bare Knuckle Irish Tour pickups
10 position Freeway switch