Building a multiscale headless guitar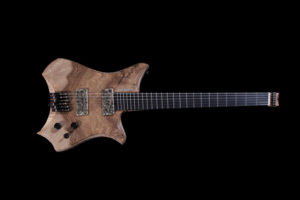 I was approached by a customer, Jake,  about the possibility of building a multiscale, headless guitar for him. Quite a long discussion began and out of those discussions a build specification was agreed.
Because this is a multiscale guitar, the body shape had to be somewhat different from the last headless guitar I made. I drew up four or five body shapes and the one shown in the pictures emerged as the favourite option for both of us. With very high output Bare Knuckle pickups and a flat, 20″ radius fretboard, this contemporary body shape reflects the character of the guitar.
Here is the full specification for the guitar:
Neck:               Maple & bloodwood through-neck construction
Body:               Walnut top, ash side wings
Fretboard:      Rocklite Ebano, 20″ radius, stainless steel frets
Multiscale:      25″ treble side, 25.5″ bass side
Hardware:      T4M bridge/tuners
Pickups:          Bare Knuckle Warpigs. Slanted pickups with Camo covers
Switching:      Series/parallel switching for both pickups
Finish:             Satin urethane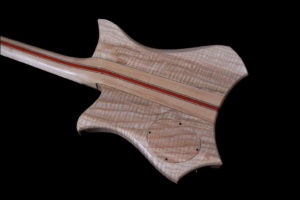 If you would like to know more about this guitar, I have two videos on my YouTube channel which shows the guitar in more detail. They also shows the building of this guitar.
Building a multiscale, headless guitar. Episode One: In this video I descibe the features of this guitar, particularly the multiscale aspect. This episode also shows part of the build process.
Building a multiscale, headless guitar. Episode Two: This video shows the completion of the build. At the end of the video you can see the new owner, Jake, playing the guitar.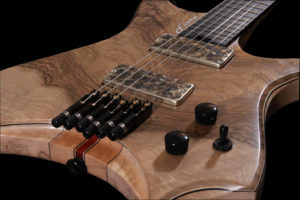 Multiscale, headless guitars
I am aware that many guitarist do not like headless guitars. But they are becoming more popular. And if you like a very lightweight, compact guitar, then a headless guitar is worth considering.
Multiscale guitars are also becoming more popular with guitarist who use a lot of alternative or drop tunings. For this type of playing they do have some advantages over standard scale guitars. I talk more about this in Building a headless, multiscale guitar Episode One.
Time to commision your own custom guitar?
If you are thinking about having your own custom guitar made, feel free to contact me to discuss what you have in mind. I am always up for a challenge and willing to try something different.
You can see picture of guitars that I have made over the last few years on my Gallary Page