Building a headless guitar
Building a headless guitar
Last year I was approached by a customer, Ian, about the possibility of building a headless guitar for him. Ian had been looking around for a headless guitar and found that, as a left-handed player, the options were limited. And so he approached me. This was my first chance to build a headless guitar and I really enjoyed this project.
Putting together the specification
Ian has an extensive home studio and plays dub reggae. You can find him on YouTube as Citizen Warwick 
Ian wanted a compact, light-weight guitar which made it easy for him to switch from guitar to keyboard or synth. And the reason for wanting a headless guitar was so that he didn't knock various items of equipment with a headstock.
We met a few times to discuss build options and for me to get a clear picture as to what Ian was after. In short, we agreed the following:
A through-neck construction
Quilted maple top
Chambered body
Compound radius ebony fretboard (9.5″ to 12″)
25″ scale length
lacquered finish
Finished headless guitar in more detail
So here are some pictures of the finished guitar.
Tonewoods

:
Quilted maple top which has been given a blue-burst stain
Maple through-neck
Walnut side wings
Ebony fretboard
Bloodwood binding for the neck and body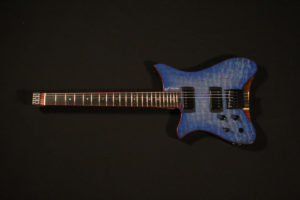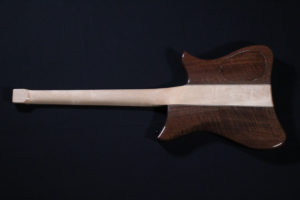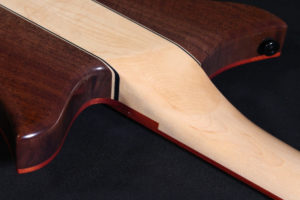 Hardware:
Hipshot bridge and headpiece
Evo Gold fretwire
Kill switch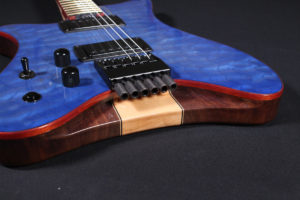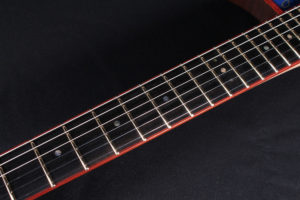 Pickups:
Bare Knuckle Abraxus pickups
Ebony pickup surrounds
Series/parallel switching for bridge pickup
Series/coil cut switching for neck pickup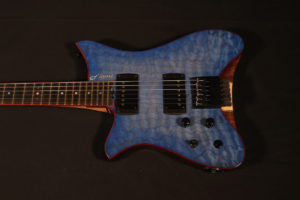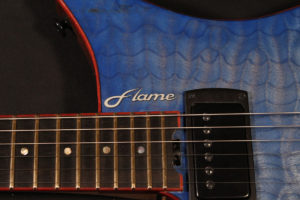 Conclusion of the build
As I said, building a headless guitar was not something I had done before.  But I am grateful to Ian for having the confidence in me to produce a beautiful guitar for him. And I really enjoyed this project. I will definitely be making more headless guitars. In fact, I have one underway now.
A few months after Ian received his guitar, and after he had had a chance to really get to know it, I asked him to give me his thoughts on the guitar. This is how he responded:
"During the conceptual stages it was difficult to know how the guitar would feel though once it came together and I saw it complete for the first time it was astonishing. To me it's the best guitar I've ever owned or seen. It exceeded my expectations and has become an important part of my musical life. I've never looked at another guitar since. I now know how Arthur felt when he drew Excalibur from the stone, that is how I feel about this guitar every time I play it!"
If you would like to know more about Flame Custom Guitars visit my Custom Guitars page. Or have a look at my Gallery page where you can see pictures of some of the guitars I have made in the past.
If you are thinking of having your own custom electric guitar made feel free to CONTACT me. And just to add, I am very happy to make guitars that do not use the Flame Guitars body shape.